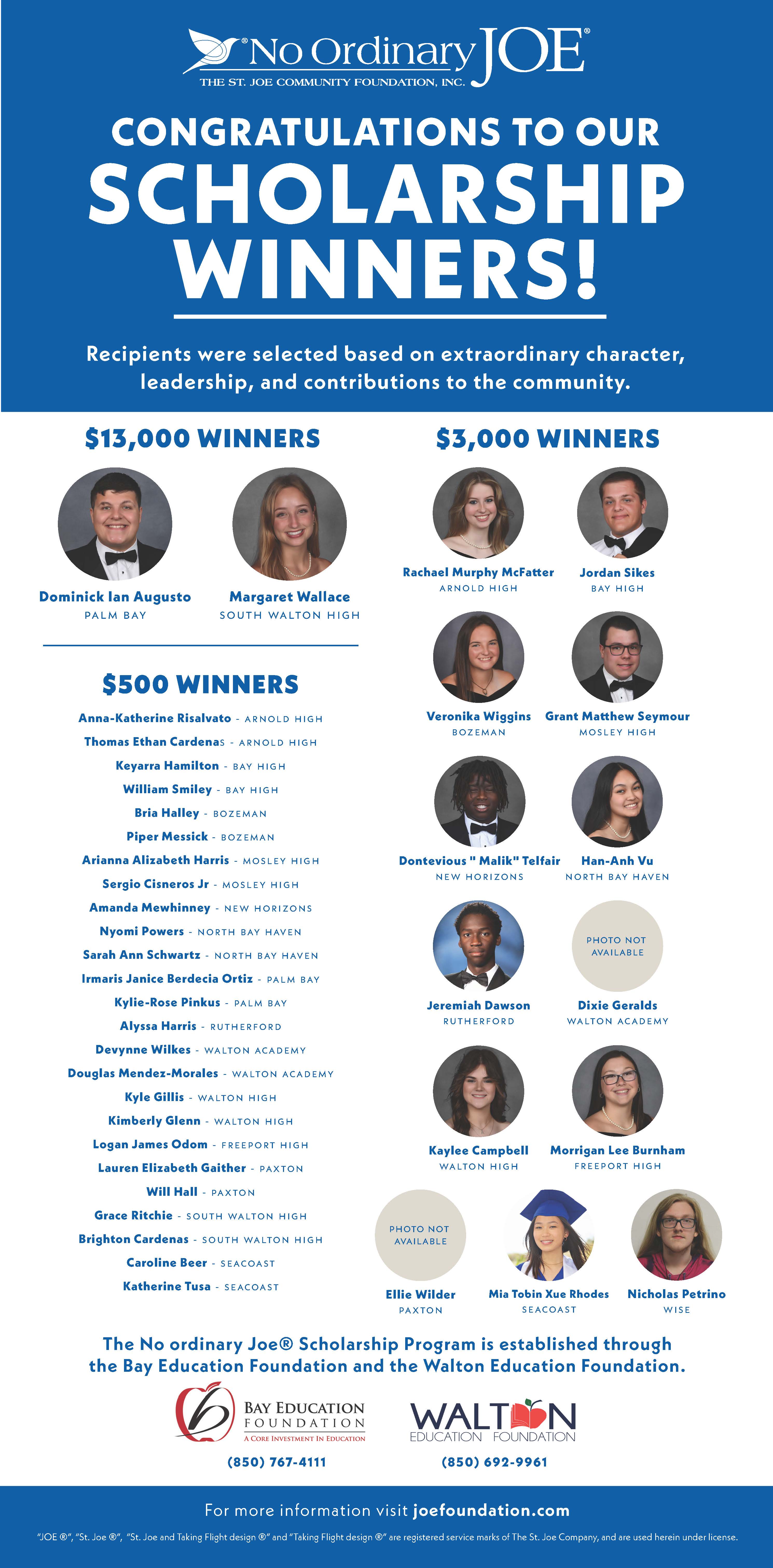 About the Scholarship:
In 2020, The St. Joe Community Foundation "Foundation" Board of Trustees established a major annual scholarship opportunity for high school students residing and attending school in Bay County and Walton County, FL which commenced with the Class of 2022 Award. As Education is one of the Foundation's pillars, the Foundation Board would like to recognize the community's "Extraordinary" students who exhibit leadership with a strong sense of community and service. The Foundation will award multiple levels of scholarships for high school nominated students recognized as "Extraordinary" concluding with a single named winner of the major "No Ordinary JOE" scholarship for each County. By participating in community projects benefitting others, one can build a multitude of skills, learn problem solving abilities, boost self-confidence and self-esteem, and an overall better psychological, social and cognitive thinking.

Important Dates:
• Sign up in Guidance Dept. to be considered for nomination – December 16, 2022
• Nomination Committee Meeting - December 2022
• Nominations Due from each High School - January 13, 2023
• Applications Due from each Nominee - February 10, 2023
• Finalists Announced - March 10th, 2023 (Bay) and March 17th, 2023 (Walton)
• Finalist Interviews Scheduled - April 10th, 2023 (Bay) and April 17th, 2023 (Walton)
• NO Ordinary JOE Scholarship Winners Announced - May 2023
• Scholarship Funds Provided - Coinciding with Spring and/or Fall Semester
*No Ordinary JOE Scholarships will be awarded upon application being made and scholarship agreement executed.